1-5/8" H x 2-1/2" W Satin Brass Name Plate Oval Shape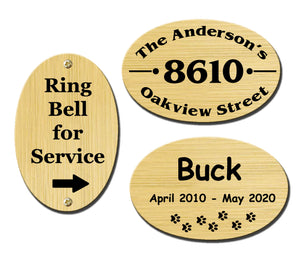 Check out product images for all fonts and symbols. If not specified, Arial will be used without any symbols.
Satin Brass Gold color plate. The plate is 0.018" thick.
Up to 4 lines of text can be engraved

Three mounting options: none (default), adhesive, or two 3/32" holes with matching wood screws
Clean, laser-sharp, and permanent engraving using our laser engraver. The laser marks directly INTO metal, making it long-lasting.
Perfect as nameplates, ID tags, badges, signs, and memorials.
We use only high-quality metal blanks. This is not a metal-like faux/plastic plate; it is real metal.
Recommend for indoor applications
All our plates are proudly made in the USA and ship from North Texas.
How to specify font and symbol
Please choose from the images below for supported fonts and symbols. Enter the corresponding number of the fonts, symbols, along with any other special instructions in the text area above "Add to Cart" button.
List of Fonts
Please refer to the images below for available font:
List of Symbols
Please refer to the image below for available symbols:
---
---
Greetings. For the 1-5/8" H x 2-1/2" W Satin Brass Oval Shape Name Plates, is it possible to have a single hole drilled top center when the oval is horizontal, rather than two at the sides? Would there be an extra charge for this special request? Thank you.

Danielle,
Thank you for your inquiry. Yes, we can punch one hole at the top. There is no extra charge for that. When placing the order, please choose '2 holes w screws' for mounting. In the 'special instruction' field, please enter this 'plate in horizongtal orientation, punch one hole at the top'. 

Best regards,
June
---
We Also Recommend
---